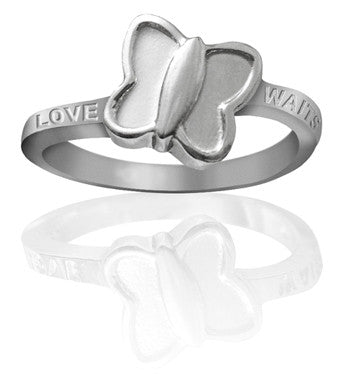 Purity Ring - BUTTERFLY Love Waits in Sterling Silver
Just as a butterfly begins a new life so does a young lady as she matures into knowing and trusting that God has His perfect plan for her life. As a butterfly trusts God for all of it's needs so does a young lady as she prays and walks in the path that God has for her. Being pure she vows to wait of the Lord. Designed by our master jeweler the words "LOVE WAITS" are eloquently carved into the shank of the purity ring. This girl's purity ring is manufactured in sterling silver. 
Included with every purity ring FREE of charge is:
A Beautiful Presentation Gift Box.
An 8" by 11" Covenant of Purity Certificate that you can frame.
A Purity Prayer and Pledge Card.
---
We Also Recommend
---